Simplicity Review
Simplicity is a feature-rich pre-EoC Runescape private server filled with a variety of semi-custom content and other notable Oldschool Runescape content. This server is staffed by a team of 28 individuals and played by as many as 250 players at a time (on average). This RSPS possesses a very entertaining mix of both familiar and unique content found through exploring skills such as Dungeoneering and Summoning, or by taking on a multitude of exciting bosses and minigames. Prepare to learn what Simplicity RSPS is at its core and find out why we find this a very cool combination of two worlds.
Notable Features
The amount of entertaining content this server has to offer is enticing to play for hours at a time. Duo Slayer, Party Dungeoneering, Full Raids, Vorkath & Hydra are just a few of many pieces of content found in Simplicity. There's a good handful of custom items found throughout the server too, such as Ring of Bosses, Scythe of Vitur X and Dark Twisted Bow – amongst many others. The mix of content in this server is, well, Simply amazing. Let's find out, shall we?
Player vs Monster (PvM)    
PvM is a big hit on Simplicity. This server offers existing bosses from Oldschool Runescape alongside pre-eoc, as well as unique custom bosses to battle. For example, Phoenix and Nex are two bosses from the later stages of Runescape whilst the Nightmare and Hydra are found on OSRS. Simplicity also offers the opportunity to try out new combat mechanics by fighting the Bandos Avatar, Slash Bash or Tarn. All bosses have unique levels of difficulty and offer excellent rewards.

↑ Image 1: The mix of Pre-EOC and OSRS bosses that Simplicity has to offer.
| | |
| --- | --- |
| PROS | CONS |
| High Variety (OSRS/Custom/Pre-Eoc) | None |
| Good Combat Balancing | |
| Good Reward Balancing | |
Skilling    
Skilling is somewhat of an uncertainty. There are a lot of skills, including Dungeoneering and Summoning which are a popular hit amongst the players. However, most skills are pretty basic when it comes to training. For example, there are only four agility courses; Thieving can only be trained at stalls that are located at home; and Hunter is mainly trained at Puro-Puro. While this isn't a problem for most players, it can get a bit repetitive when going for 99 in a skill.

↑ Image 2: One of the many unique AFK training methods that Simplicity has to offer.
| | |
| --- | --- |
| PROS | CONS |
| Dungeoneering | Basic Training Methods |
| Summoning | |
| Unique AFK Training | |
Player vs Player (PvP or Pking)  
Sadly, PvP action is nowhere to be found in Simplicity. First of all, Simplicity is primarily an economy-based server meaning that you won't be able to spawn items or set your levels. This isn't a bad trait to possess, but it doesn't exactly attract pkers. Secondly, players rarely tend to visit the Wilderness unless there is a hotspot. Even then, there are only a couple of people in the entire Wilderness. Finally, considering the combat feels a bit clunky (E.g. Autocasting) it is hard to get some nice tribridding action. On the other hand, there are occasionally PvP-oriented events hosted which are nice to see.

↑ Image 3: Wilderness has a variety of PvM bosses, but there are no players to PvP with.
| | |
| --- | --- |
| PROS | CONS |
| Bosses in Wilderness | PvP Combat is Clunky |
| | Very Low PvP Activity |
Minigames  
There are a lot of minigames on this server, including both custom minigames and the ones from oldschool runescape. The problem is that there isn't really a lot of activity in minigames such as pest control unless there is an event that is going on. Therefore, it can take some time for you to get rewards from the minigames you want if they require larger amounts of players. However, the minigames that are currently on the server are focused on PvM/Skilling, and a lot of players seem to enjoy participating in them.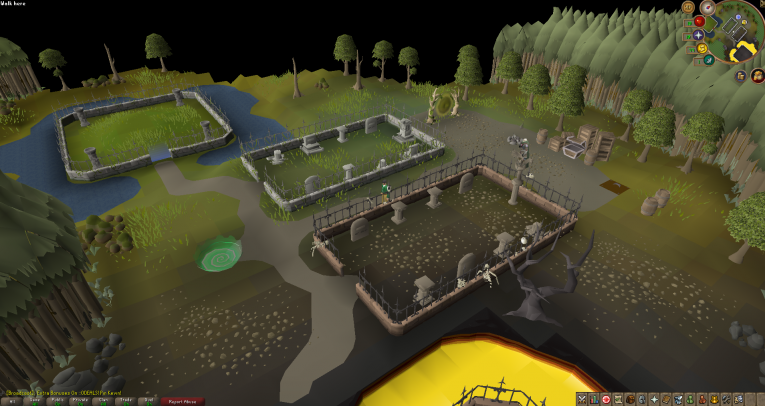 ↑ Image 4: A mix of 15 different OSRS, Pre-Eoc and custom minigames
| | |
| --- | --- |
| PROS | CONS |
| Big Variety (PvM/Skilling) | Group Minigames are Empty |
| Custom Minigames | Few PvP Minigames |
Player activity     
Simplicity is considered to be a large-sized server as it sees between roughly 60 to 250 active players online at a time, depending on the time and day. There are enough players for chatting and having fun while skilling and PvMing; however, at times there seems to be a good handful of players that are AFK training. While AFK training is a nice feature, it can be demotivating to play at times when a lot of players are AFK training or standing still. However, it is still impressive to maintain large numbers of players for long periods of time – which Simplicity has most certainly managed to accomplish.

↑ Image 5: Simplicity is an active server with a decent amount of players.
PROS
CONS
Decent Amount of players
Many are AFK
Other content     
When it comes to miscellaneous content, there's a lot on the table. Upon logging in, there are a couple of different game modes to choose from, depending on how much of a grinder one is. Additionally, there's a very nice achievement system with 106 achievements and four different tiers. Moreover, there are also a lot of systems in place to aid with gaming. Some examples being kill log, drop log, drop tables, collection log, etc.
| | |
| --- | --- |
| PROS | CONS |
| Different Tools to Ease Gaming | None |
| Activities Outside of the Main Grind | |
Conclusion    
(3.8 on average)
Simplicity is the perfect server for those who seek casual gameplay and a good variety of content to choose from. There's a ton of cool activities never seen before on any other server. Plus, it is the kind of server that can easily be played for weeks on end. If original Runescape mechanics and looks are more your style, then this server may not be your ideal match. Afterall, it is more of a custom 317 server than an emulation. So it really depends on what you prefer. Grinds and replications, or entertainment and unique content? We can offer insight only so far, so in the end you will have to decide for yourself if Simplicity is the right server for you!
Website: https://www.simplicityps.org/
Discord: https://discord.gg/NjbEDNg
📃⬇️[ Runescape ] Links – Blogs You May Be Interested⬇️ 📃

💡Categories💡