⚔️Roat Pkz Review 2023 1K+ Online⚔️
Roat Pkz Review
Roat Pkz is an OldSchool Runescape private server with a heavy focus on PvP and is packed with a variety of both exciting and innovative content appealing to multiple types of players, including PvM too. Founded by Gretar in 2011, Roat Pkz has been running smoothly ever since with over 400 active players online daily! Considering its many years of success and massive player base, it is clear Roat Pkz is one of the leading RSPS for a reason.
In this server review, we will break down some of Roat Pkz's notable content, as well as examine the quality of its features and player activity. Based on 30-point scale - ranging from 1 to 5 stars – our team will rate Roat Pkz in attempt to help you decide if this is the right server for you. Keep in mind: many servers are constantly evolving, so certain categories may improve over time. It is always a good idea to try servers out for yourself and come to your conclusions!
Now let's kick this off with an interview from the owner of Roat Pkz, Gretar!
Notable Features
If you are the type of player who enjoys the PvP aspect of Runescape, then you will certainly love playing Roat Pkz! The wilderness at Edgeville servers as the main center for activity and caters to all PK builds and types. Some unique features include daily PvP achievements and tasks, hitpoint events, daily PK tournaments and a Clan Cup for huge OSRS prizes.
Roat Pkz development team also releases frequent updates which maintains the quality of the game at an extremely high standard. Players love updates, right?!
Player vs Monster (PvM)    
Although Roat Pkz is mainly a PvP server, it does offer players unique PVM content. Killing bosses such as the Roat Pkz champion, Corporeal beast and Skotizo can be a lucrative money maker. Due to the vast number of players, you won't have trouble finding PVM clans / partners.

↑ Image 1: A custom boss named "Roat Pkz Champion" that can be fought in the wilderness.
| | |
| --- | --- |
| PROS | CONS |
| PvM Tasks & Achievements | Limited OSRS bosses |
| Custom Bosses | Not so much PvM activity |
| Bosses drop decent loot | |
Skilling    
Roat Pkz has developed its own skilling zone to cater to skillers that consists of thieving stalls, trees, and fishing spots. You can earn skilling points for successfully completing tasks and leveling up skills which can spent in shops found around the game. Roat Pkz is missing a number of skills which is why they are receiving 3 stars from us. This is quite common for servers that are primarily oriented towards Player vs Player gameplay.

↑ Image 2: Multiple thieving stalls around the home area to pickpocket money.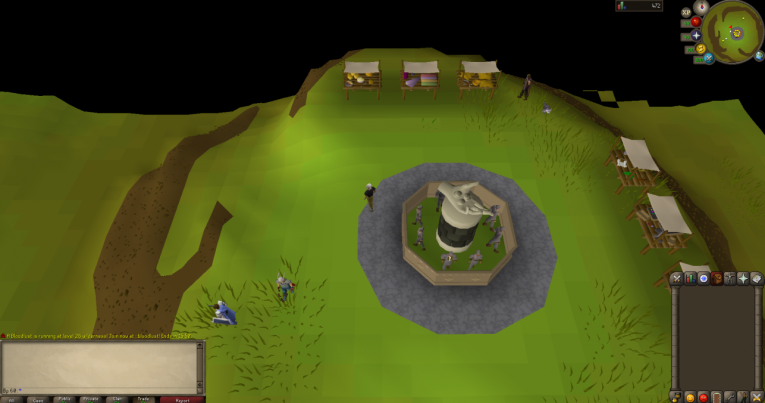 ↑ Image 3: One of the skilling zones on Roat Pkz, a great way to make additional money.
| | |
| --- | --- |
| PROS | CONS |
| Skilling is a decent money maker | Some skills are missing |
| Unique skilling zones | Most skills are not 1:1 with OSRS |
Player vs Player (PvP or Pking)  
Player killing on Roat Pkz is highly enjoyable, so there is no question why so many players choose it as their main source for PvP gameplay. Firstly, Roat Pkz keeps things interesting by providing players with countless PK related events and incentives every day. The Most NH kills/Hybrid kills and dharok kills for great rewards. It is also important to mention how great the Roat Pkz combat system is. The developers behind this server have contributed countless hours into the combat mechanics. Many players consider Roat Pkz player killing to be nearly flawless! You will not have any trouble finding a match in this thriving Wilderness. Roat Pkz is full of numerous active PvP clans which makes the server very appealing to new players and the competitive nature of it incredibly fun.

↑ Image 4: Wilderness is the most active place on Roat Pkz, many clan fights aswell.
| | |
| --- | --- |
| PROS | CONS |
| Majority of the server PK's | None |
| Great combat system | |
Minigames    
Roat Pkz offers players various minigames to choose from with some of the most popular games being Castle Wars, Last Man Standing (LMS), and the tournament system! These different minigames attract numerous players through automatic announcements made in-game. Roat Pkz also gives away a jaw-dropping 500m OSRS weekly in their tournament system!
I participated in a Dharoks tournament during the week of writing this review and found a lot of entertainment and fun while competing against other players!

↑ Image 5: A unique tournament system that is activly used by all sorts of players.
| | |
| --- | --- |
| PROS | CONS |
| Numerous players compete in Minigames | Only 3 main minigames |
| Juicy OSRS prizes! | |
Player activity     
Without a doubt, Roat Pkz fully deserves 5 stars for its player activity. This server averages over 400 players online every day and sometimes reaches 550 on weekends. The Wilderness and home area is well populated with players conversing and trading! Roat Pkz has a dedicated staff team in-game and on the forums to assist players with their needs, suggestions and problems that may arise while playing. There are currently 17 members in their staff team which speaks volumes on just how much energy is put into this server.
Keep in mind - this server has been online for nearly 10 years! In this time, Roat Pkz has seen a fluctuation in its player base like most servers. However, Roat Pkz has always seen over 150 players online for its entire existence in the RSPS scene ..which is a great feat!
PROS
CONS
Over 400 players online
None
Dedicated staff team
Other content     
Roat Pkz has implemented a massive variety of unique content to the game. This server contains 1040 achievements and tasks to complete ranging from participating in an event to mining runite rocks. The variation of content is constantly entertaining!
The Clan Cup also attracts a great number of different clans to compete for the most kills! These Clan Cup's occur every single month with over 15B OSRS given away over time!
Roat Pkz recent clan cup can be found here.
| | |
| --- | --- |
| PROS | CONS |
| Frequent events | None |
| Tons of tasks and achievements | |
Conclusion    
(4.3 on average)
In conclusion, it is fair to say Roat Pkz is one of our top picks for PvP servers considering the quality and vastness of it features. Not to mention the longevity of the server is quite notable. There is no doubt Roat Pkz is very easily one of the longest running RSPS in existence. This server offers players a highly enjoyable experience through its highly active community and ever-evolving content.
If you are the type of player who enjoys more PVM and Skilling content, then we would recommend a different server you can read up on in our other server reviews on RuneList! However, if you receive a thrill out of the PvP aspect of OSRS, then we highly recommend you play Roat Pkz and see what you think for yourself!
Website: https://roatpkz.com/
Discord: https://discord.gg/5mwPpS2P57